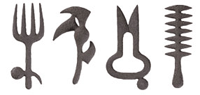 Ordering the "Implement Series":
Retail: price per Implement is $225.00
To the Trade: please contact us for pricing
We are happy to send you an actual sample to look at for the retail purchase price. Upon return of the sample in its original condition, we will issue a refund or apply credit toward your order.
Samples are representative of final surface texture and color. However, each order is custom made to control the variances inherent to the process of hand-fabrication. We are able to manipulate the color of the Implements to a slight degree. If you want us to develop samples according to your color specifications we will charge a small fee for labor and materials.
Each wall-mounted piece ships with mounting instructions plus a paper template illustrating its proper hanging position. Attachment to the wall is accommodated by machined metal standoffs which are secured to the wall by concealed screws. You may choose whether the asymmetrical pieces in the series will face left or right when mounted to the wall; however, their respective frontal positions must be pre-determined before construction.
If you are able to send us 1- a professional quality digital photo of the actual wall where you wish to mount the installation and 2- accurate measurements and scale information, we can send you a digital mock-up to give you an approximation of what your project will look like. We will, of course, require a modest fee for "photoshop" time.
Once the pieces are selected and all decisions concerning surface, color, and frontality are approved, a non-refundable 50% deposit is required before making the work. Final payment is due upon completion of work.
If you prefer the "Implements" for table-top display or want to be able to handle them, they are available with optional pronged hangers which screw to the wall. The pronged hangers permit easy removal. Table-top "Implements" come with ceramic pellets encapsulated in the principal cavity of each piece; when shaken, the rattling of the pellets reinforces the hand-held utility of the original artifacts on which the series is based.
The construction process generally takes 4 - 8 weeks, depending upon the size of the grouping.